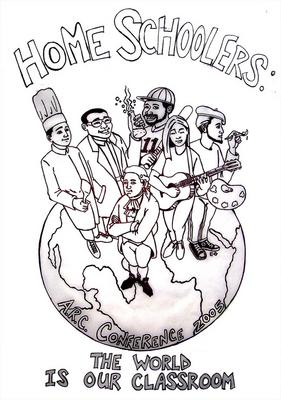 Appalachian Regional Co-operative Homeschooling Conference
Saturday, April 9, 2005
Bethel Assembly of God
515 E. Wilson Blvd
Hagerstown, MD

We at the Appalachian Regional Cooperative are a nonsectarian group, serving the educational and social needs of home- schooling families in the tri-state area. We hope to give new , experienced and undecided homeschoolers the opportunity to widen their circle of home schooling colleagues, learn about resources, and share their own experiences. Appearances of speakers and panelists do not constitute endorsements by the Appalachian Regional Cooperative.



Directions for North or South - Take I-81 to I-70 East, Exit 29 B. At the 5th traffic light, turn right onto Wilson Blvd. The church is 1/2 mile on right.
From West - Take I-70 East, exit 29B. At the 5th traffic light, turn right onto Wilson Blvd. The church 1/2 mile on right.

From East, take I-70 West, exit 29B. Bear to right off the exit. At the fourth traffic light, turn right onto Wilson Blvd. The church is 1/2 mile on right.


Session Highlights
Homeschool Laws, Different Approaches to Homeschooling, Journaling for Kids, The College Commitment, Homeschooling Multi-Ages, Children's sessions





CONFERENCE AT A GLANCE



| | |
| --- | --- |
| 1. 9:00am - 9:30am | Registration/Snack table opens |
| 2. 9:30am - 10:30am | Session A |
| 3. 10:40am - 11:40am | Session B |
| 4. 11:40am - 1:00pm | Brown-Bag Lunch/Socialize |
| 5. 1:00pm - 2:00pm | Session C |
| 6. 2:10pm - 3:10pm | Session D |
| 7. 3:20pm - 4:20pm | Session E |

For further information contact: Sandi Roberts @ 301 834-7420 or Email webmaster@homeschoolers.freeservers.com

Send release form below and check payable to Appalachian Regional Co- Op to:
Deana Hannah
53 Byron Dr
Smithsburg, MD 21783

SNACK TABLE
Please bring a snack to share. To lessen the possibility of many duplications, please bring a snack according to the first initial of your last name. Bring items in a disposable container and mark ingredients if not in the original container. The snack table will remain open as long as food is available.



| | | | |
| --- | --- | --- | --- |
| A-C > Crackers | G-I > Cheese | M-O > Dips | S-U > Juices |
| D-F > Quick breads/muffins | J-L > Chips | P-R > Veggies | V-Z > Fruit |


FOOD BANK - CLOTHES CLOSET: To assist with the Bethel Assembly of God's outreach efforts, we are asking each family to bring a canned food or clothing item to contribute.

The cost of the conference is $10.00 for one adult and $15.00 for a family. Checks are to be made out to Appalachian Regional Cooperative and sent to:
Appalachian Regional Cooperative
c/o Deana Hannah
53 Byron Dr
Smithsburg, MD 21783


RELEASE FORM: Please sign the release form and return along with your check. The release form is required for participation by the Bethel Assembly of God. Click here for the release form.


We are proud to offer Conference t-shirts this year. You must preorder and they will be available for pick-up at the conference. The conference logo as seen at the top of this page is on a light blue shirt. Order information at the bottom of the registration form.


If you wish to sign up two adults on this form, then have Adult 1 fill in Choice 1 sessions and Adult 2 the Choice 2 sessions.



Sign Up








Design and Upkeep by Sky Web Development